60 Seconds! Atomic Adventure is the IOS port of the PC game 60 seconds. The game is playable on Iphone Android and Ipad and uses the touch screen controls to control ted while in game collecting objects and during the survival mode where players ration out supplies.
Glitches/Bugs
Edit
After day 70 the game supposedly goes to a black screen and freezes the player's mobile device(?)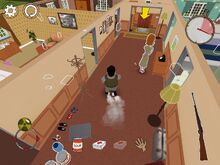 This is the First mobile game developed by Robot gentleman Studios
Ad blocker interference detected!
Wikia is a free-to-use site that makes money from advertising. We have a modified experience for viewers using ad blockers

Wikia is not accessible if you've made further modifications. Remove the custom ad blocker rule(s) and the page will load as expected.